The Music of Cream 2020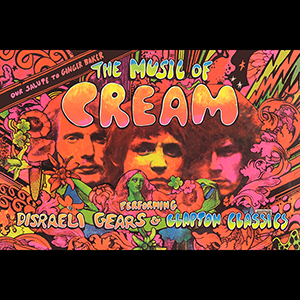 Cream was a chemical explosion like no other, the blueprint for every super group to follow.

More than fifty years since their debut album, family members of that hallowed trilogy come together in tribute as The Music of Cream 2020.

Kofi Baker (son of Ginger) and Will Johns (Claptons nephew and son of Zeppelin/ Stones engineer Andy) unite with master musicians Sean McNabb and Chris Shutters.

The Music of Cream 2020 has a brand new show and line up, performing Creams seminal album, Disraeli Gears, followed by a set of Clapton classics.

Limited Edition VIP-style Laminates are available online and at each show. These beautiful collectibles include a code to download the performance of your choice, within minutes after the conclusion of the show! Pre-order yours now!
We are pleased to be offering limited edition recordings for the artist above. Not to be confused with a "sound board" recording, these recordings are fully mixed and mastered on the fly and are true collectors items. Only a few of each of these products will ever be made!
Product availability is subject to the date of the concert. Even if you cannot attend the show you can still order products and we will ship them to you! For shows that have not yet occurred, you can order "pick up" items (those items where you will be attending the show). In doing so, you are purchasing a printable voucher which may be redeemed at the concert you attend to pick up your product. IF YOU DO NOT SEE "PICK UP" ON THE SHOW YOU WANT TO PURCHASE, THIS MEANS THE ONLY OPTION AVAILABLE IS TO HAVE IT SHIPPED HOME TO YOU. HOWEVER, IF YOU ATTEND THE SHOW, YOU MAY STILL ORDER YOUR COPY AT THE SHOW AND TAKE IT HOME THAT NIGHT. For "ship home" items, we make every effort to send the master recordings to the fulfillment house within 3-7 business days of the specific show (this depends highly upon location of said show). Therefore you should allow up to 5 business days for processing, and additional delivery based upon your chosen method of shipment of up to 7 business days for domestic and two weeks for international in ADDITION to processing time. THIS IS ESPECIALLY TRUE FOR ACTIVE TOURS.
SELECT "PICK UP" ONLY IF YOU ARE ATTENDING THE SHOW AND WISH TO PICK UP THE ITEM RIGHT AFTER!