Hair Nation Tour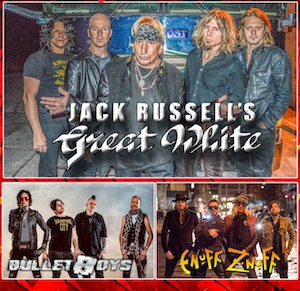 Hair Metal fans rejoice! VNUE, Inc. (OTCQB: VNUE) has announced that the company is partnering with all of the bands on the SirusXM (NASDAQ: SIRI) Hair Nation Tour and will be re-cording select shows on the tour starting October 18th for immediate release as limited edition collectible laminates and instant digital download via VNUEs set.fm proprietary web and mobile (iOS & Android) platform. Each laminate will contain three scratch-off codes so that fans may download any or all of the bands performances.

The tour consists of Jack Russells Great White, which features VNUEs own Chief Creative Of-ficer Tony Montana Cardenas on guitar, as well as the Bullet Boys and Enuf ZNuff.

The Hair Nation Tour is presented by SirusXM and Live Nation, and is hosted by music industry veteran, author and SiriusXM host Eddie Trunk, who is appearing at some of the tour dates.

The tour offers listeners and music fans the chance to see the bands who have been giving us decades of larger-than-life rock music, and VNUE will be there

Pre-order your limited edition collectible laminate TODAY for your exclusive live show recordings!
We are pleased to be offering limited edition recordings for the artist above. Not to be confused with a "sound board" recording, these recordings are fully mixed and mastered on the fly and are true collectors items. Only a few of each of these products will ever be made!
Product availability is subject to the date of the concert. Even if you cannot attend the show you can still order products and we will ship them to you! For shows that have not yet occurred, you can order "pick up" items (those items where you will be attending the show). In doing so, you are purchasing a printable voucher which may be redeemed at the concert you attend to pick up your product. IF YOU DO NOT SEE "PICK UP" ON THE SHOW YOU WANT TO PURCHASE, THIS MEANS THE ONLY OPTION AVAILABLE IS TO HAVE IT SHIPPED HOME TO YOU. HOWEVER, IF YOU ATTEND THE SHOW, YOU MAY STILL ORDER YOUR COPY AT THE SHOW AND TAKE IT HOME THAT NIGHT. For "ship home" items, we make every effort to send the master recordings to the fulfillment house within 3 business days of the specific show. Therefore you should allow up to 5 business days for processing, and additional delivery based upon your chosen method of shipment.
SELECT "PICK UP" ONLY IF YOU ARE ATTENDING THE SHOW AND WISH TO PICK UP THE ITEM RIGHT AFTER!