King's X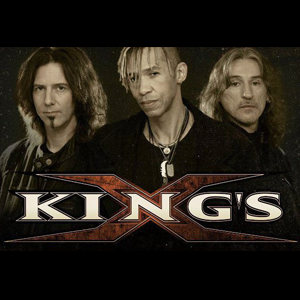 King's X is an American rock band that combines progressive metal, funk and soul with vocal arrangements influenced by gospel, blues, and British Invasion rock groups. The band's lyrics are largely based on the members' struggles with religion and self-acceptance. King's X was ranked No. 83 on VH1's 100 Greatest Artists of Hard Rock.

Since being signed to Megaforce Records in 1987, King's X has released twelve studio albums, two official live albums, and several independent releases. The band's most recent studio album, XV, was released in 2008 on the InsideOut Music label. Since leaving Atlantic Records, following the release of Ear Candy in 1996, King's X has released albums through Metal Blade Records, InsideOut Music and independently. Each member of the group has recorded several solo albums and have made numerous guest appearances on other artists' albums, as well as participated in numerous compilation projects. Doug Pinnick and Ty Tabor also have many albums released with side bands in which they participate.

Early in their major label career the band secured opening slots on arena tours, including opening for bands like Iron Maiden, AC/DC, Scorpions, Pearl Jam and Mötley Crüe as well as the Woodstock '94 festival. To this day, they continue to tour and perform live.

The spiritual nature of the band's lyrics, particularly on their first four albums, has often led to them being labeled a Christian rock band, a label the members have rejected.

DiscLive is extremely excited to be partnering with our sister company set.fm to be offering limited edition collectible laminates. Each laminate has a scratch off code on the back, and you can download two of any shows on this tour from the set.fm website or app!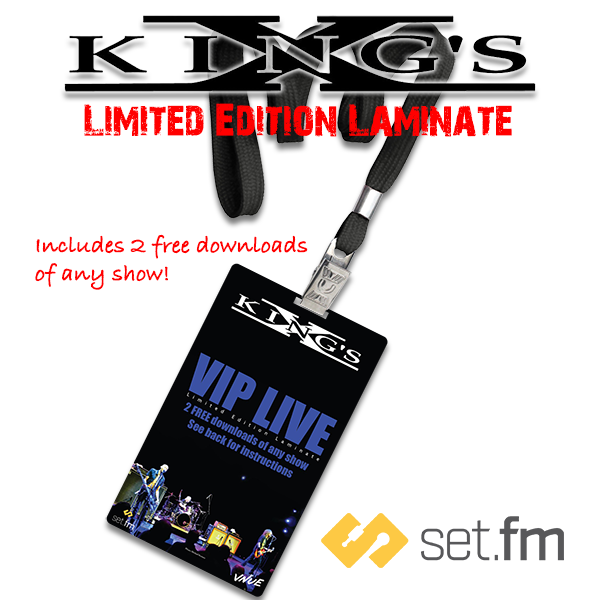 YOU MAY PRE-ORDER AND PICK UP AT THE SHOW OR HAVE IT SENT HOME TO YOU!


We are pleased to be offering limited edition recordings for the artist above. Not to be confused with a "sound board" recording, these recordings are fully mixed and mastered on the fly and are true collectors items. Only a few of each of these products will ever be made!
Product availability is subject to the date of the concert. Even if you cannot attend the show you can still order products and we will ship them to you! For shows that have not yet occurred, you can order "pick up" items (those items where you will be attending the show). In doing so, you are purchasing a printable voucher which may be redeemed at the concert you attend to pick up your product. IF YOU DO NOT SEE "PICK UP" ON THE SHOW YOU WANT TO PURCHASE, THIS MEANS THE ONLY OPTION AVAILABLE IS TO HAVE IT SHIPPED HOME TO YOU. HOWEVER, IF YOU ATTEND THE SHOW, YOU MAY STILL ORDER YOUR COPY AT THE SHOW AND TAKE IT HOME THAT NIGHT. For "ship home" items, we make every effort to send the master recordings to the fulfillment house within 3-7 business days of the specific show (this depends highly upon location of said show). Therefore you should allow up to 5 business days for processing, and additional delivery based upon your chosen method of shipment of up to 7 business days for domestic and two weeks for international in ADDITION to processing time. THIS IS ESPECIALLY TRUE FOR ACTIVE TOURS.
SELECT "PICK UP" ONLY IF YOU ARE ATTENDING THE SHOW AND WISH TO PICK UP THE ITEM RIGHT AFTER!