Richie Furay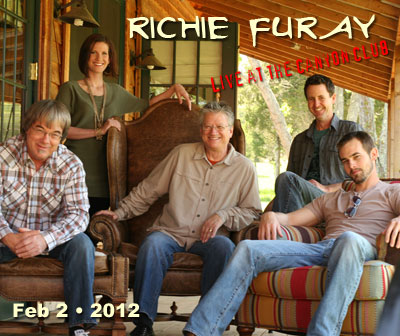 We are excited to be working with Rock and Roll Hall of Fame inductee Richie Furay on a special one-night engagement at the CANYON CLUB in LA area! Richie's career spans 43 years, getting his start in NYC, meeting Stephen Stills, and eventually Neil Young. Soon thereafter, Buffalo Springfield would be born! Eventually, Richie started a new band with Jim Messina (Loggins & Messina) and also with Randy Meisner (The Eagles), called Poco. Poco went on to record six albums with Richie, before he left to explore other avenues.

In 1996, Richey started performing with his church worship leader, Scott Sellen. Eventually this lead not only to more duo performances, but full band performances with fellow band members Aaron (Scott's son), Alan Lemke (drums), and daugher Jesse Lynch (vocals). Recently Richie rejoined his Buffalo Springfield bandmates for several performances, which was amazing.

Make sure and reserve your very special copy of the Richie Furay band live at the Canyon Club, as we are only making 500 copies of this performance available - ever! Order yours today.
We are pleased to be offering limited edition recordings for the artist above. Not to be confused with a "sound board" recording, these recordings are fully mixed and mastered on the fly and are true collectors items. Only a few of each of these products will ever be made!
Product availability is subject to the date of the concert. Even if you cannot attend the show you can still order products and we will ship them to you! For shows that have not yet occurred, you can order "pick up" items (those items where you will be attending the show). In doing so, you are purchasing a printable voucher which may be redeemed at the concert you attend to pick up your product. IF YOU DO NOT SEE "PICK UP" ON THE SHOW YOU WANT TO PURCHASE, THIS MEANS THE ONLY OPTION AVAILABLE IS TO HAVE IT SHIPPED HOME TO YOU. HOWEVER, IF YOU ATTEND THE SHOW, YOU MAY STILL ORDER YOUR COPY AT THE SHOW AND TAKE IT HOME THAT NIGHT. For "ship home" items, we make every effort to send the master recordings to the fulfillment house within 3 business days of the specific show. Therefore you should allow up to 5 business days for processing, and additional delivery based upon your chosen method of shipment.
SELECT "PICK UP" ONLY IF YOU ARE ATTENDING THE SHOW AND WISH TO PICK UP THE ITEM RIGHT AFTER!