Blondie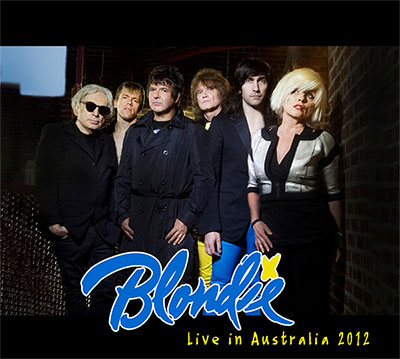 McManus Entertainment is thrilled to announce the return to Australia of one of musics most acclaimed bands, Blondie, and DiscLive Network will be there to capture just TWO spectacular shows - at the Sidney Myer Music Bowl, on Dec 3, 2012, and the Enmore in Sydney on Dec 6, 2012! We will be offering limited edition, NUMBERED live collectibe two-CD sets of the performance to fans who attend the shows, and those round the world, while supplies last. Blondie emerged from New York in the late 70s and quickly became music, style and pop culture icons selling over 40 million albums globally throughout their 37-year career. Scoring hits with reggae, rock/disco, hip-hop and pop songs alike, Blondie pioneered the early American new wave and punk scenes of the 70s. The disco-infused track Heart of Glass was Blondies first US number one single which became a worldwide hit selling more than a million copies. Blondie repeatedly reached the top of the charts over the course of four decades with hits such as One Way Or Another, Rapture, The Tide Is High, Call Me, Picture This, Rip Her To Shreds, Hanging On The Telephone and Maria. The band landed a phenomenal five US and five UK number one singles cementing them as music royalty. Deborah Harry is unquestionably one of the most important and influential women to have graced the stage and a living punk icon. Blondie has continued to be a powerhouse live act, attracting audiences around the world. 2006 saw Blondie inducted into the Rock and Roll Hall of Fame with the bands plaque situated right below The Beatles. This is the first time Blondie has EVER done an "instant" collectible product ANYWHERE - so make sure and reserve your copy TODAY!
We are pleased to be offering limited edition recordings for the artist above. Not to be confused with a "sound board" recording, these recordings are fully mixed and mastered on the fly and are true collectors items. Only a few of each of these products will ever be made!
Product availability is subject to the date of the concert. Even if you cannot attend the show you can still order products and we will ship them to you! For shows that have not yet occurred, you can order "pick up" items (those items where you will be attending the show). In doing so, you are purchasing a printable voucher which may be redeemed at the concert you attend to pick up your product. IF YOU DO NOT SEE "PICK UP" ON THE SHOW YOU WANT TO PURCHASE, THIS MEANS THE ONLY OPTION AVAILABLE IS TO HAVE IT SHIPPED HOME TO YOU. HOWEVER, IF YOU ATTEND THE SHOW, YOU MAY STILL ORDER YOUR COPY AT THE SHOW AND TAKE IT HOME THAT NIGHT. For "ship home" items, we make every effort to send the master recordings to the fulfillment house within 3-7 business days of the specific show (this depends highly upon location of said show). Therefore you should allow up to 5 business days for processing, and additional delivery based upon your chosen method of shipment of up to 7 business days for domestic and two weeks for international in ADDITION to processing time. THIS IS ESPECIALLY TRUE FOR ACTIVE TOURS.
SELECT "PICK UP" ONLY IF YOU ARE ATTENDING THE SHOW AND WISH TO PICK UP THE ITEM RIGHT AFTER!