Simple Minds & Devo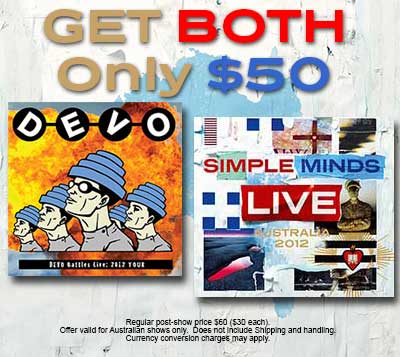 For the first time ever, DiscLive is recording both Simple Minds and DEVO as the traverse across Australia! We will be offering a limited edition double CD set for each band. These high quality, individually-numbered units are available for pre-purchase NOW! And we are offering a very special deal of $10 off the full face value post-show pricing of these sets if you buy BOTH Devo and Simple Minds! This promotion will not be offered forever, and these discs are likely to sell out - so order yours NOW! You may choose to have these sent home to you, or you may also pick them up after the show you attend. If you wish to order only one of the two discs, make sure you visit the artist page by clicking through the "Store" link at the top of the page. Australian customers please click "International" on the order page!
We are pleased to be offering limited edition recordings for the artist above. Not to be confused with a "sound board" recording, these recordings are fully mixed and mastered on the fly and are true collectors items. Only a few of each of these products will ever be made!
Product availability is subject to the date of the concert. Even if you cannot attend the show you can still order products and we will ship them to you! For shows that have not yet occurred, you can order "pick up" items (those items where you will be attending the show). In doing so, you are purchasing a printable voucher which may be redeemed at the concert you attend to pick up your product. IF YOU DO NOT SEE "PICK UP" ON THE SHOW YOU WANT TO PURCHASE, THIS MEANS THE ONLY OPTION AVAILABLE IS TO HAVE IT SHIPPED HOME TO YOU. HOWEVER, IF YOU ATTEND THE SHOW, YOU MAY STILL ORDER YOUR COPY AT THE SHOW AND TAKE IT HOME THAT NIGHT. For "ship home" items, we make every effort to send the master recordings to the fulfillment house within 3 business days of the specific show. Therefore you should allow up to 5 business days for processing, and additional delivery based upon your chosen method of shipment.
SELECT "PICK UP" ONLY IF YOU ARE ATTENDING THE SHOW AND WISH TO PICK UP THE ITEM RIGHT AFTER!